Become a Lula Approved Professional
You Set Pricing
Real Jobs, Not Leads
No Bidding Wars
Paid in 24 Hours
Lula's Commitment to Approved Service Providers
Lula works hand-in-hand with our service-provider partners to ensure everyone gains. Unlike other platforms, Lula has been designed from the ground up to work with your needs and answer your concerns. Whether you are a mom and pop small business or an international corporation, there are many reasons why joining the Lula Network is a good idea for your company.
The Lula Service Provider Benefits
No Upfront Costs
Marketing is expensive. So is buying leads online. With Lula, there are no upfront costs to receive job requests. Lula provides immediate revenue by delivering real jobs without the risk of wasting money on unconfirmed jobs.
No Bidding Wars
It's bad enough paying for access to leads upfront, but then having to compete against other providers for the same customers can be a fruitless and lengthy process. Lula's unique bid-free process delivers real jobs that can be claimed by approved providers on the platform.
Immediate Payment
Lula has the ability to pay approved Lula Pros directly to their bank account using ACH after successful completion of a job. We process and pay our Lula approved pros within 1-3 business days of a completed job. We are the fastest paying company in the property management space, period.
Shorten Your Distance
With Lula, you can select the area in which you will receive job requests; to help avoid the added expense of traveling too far from your primary location. You can take all the business you want within a specific radius. You will only receive job requests from customers in your specified area.
Control Your Schedule
Lula allows you to work on your schedule, only taking the jobs you want to accept. Whether you are an independent contractor or a company with a large fleet, you can increase production by filling gaps with jobs.
Grow Your Business
Whether you are a small business or large corporation, Lula's business model can help you rapidly grow your company. Lula delivers confirmed jobs from consumers directly to your phone.
1
Apply Online
It's free to apply, just fill out our quick and easy application form. Let's see if you are Lula material!
2
Get Approved
If you are approved, you will be among an elite group of service providers with great earning potential.
3
Take Jobs, Get Paid!
Start receiving job requests immediately. We provide all the tools and support you need to start earning money on our platform.
How it Works
Lula brings real jobs right to you. Claim the jobs you want and start earning additional revenue immediately without paying upfront lead costs or getting into bidding wars. Did we mention that we also offer integration into existing fleet management software? Still have questions? Ask us.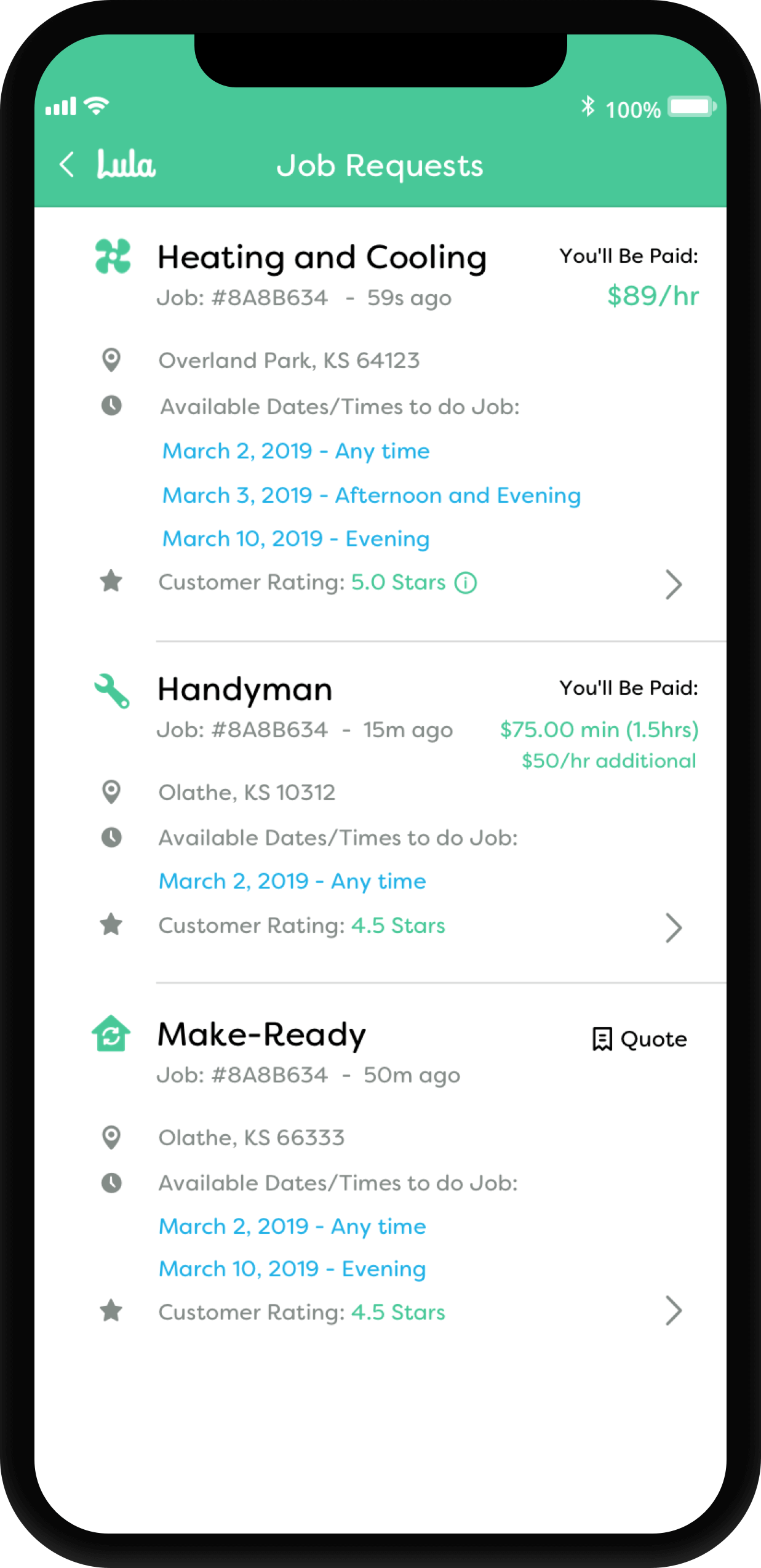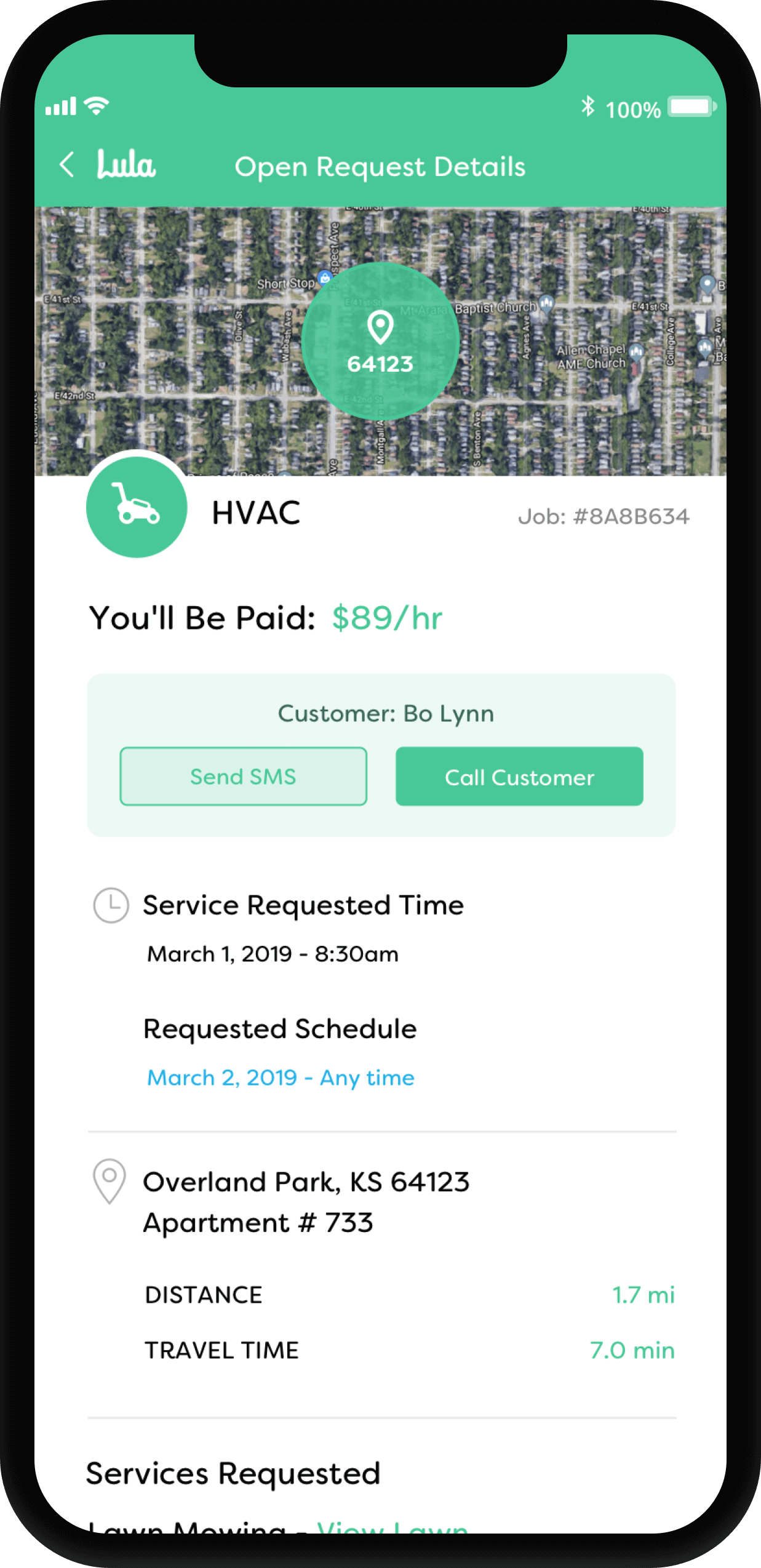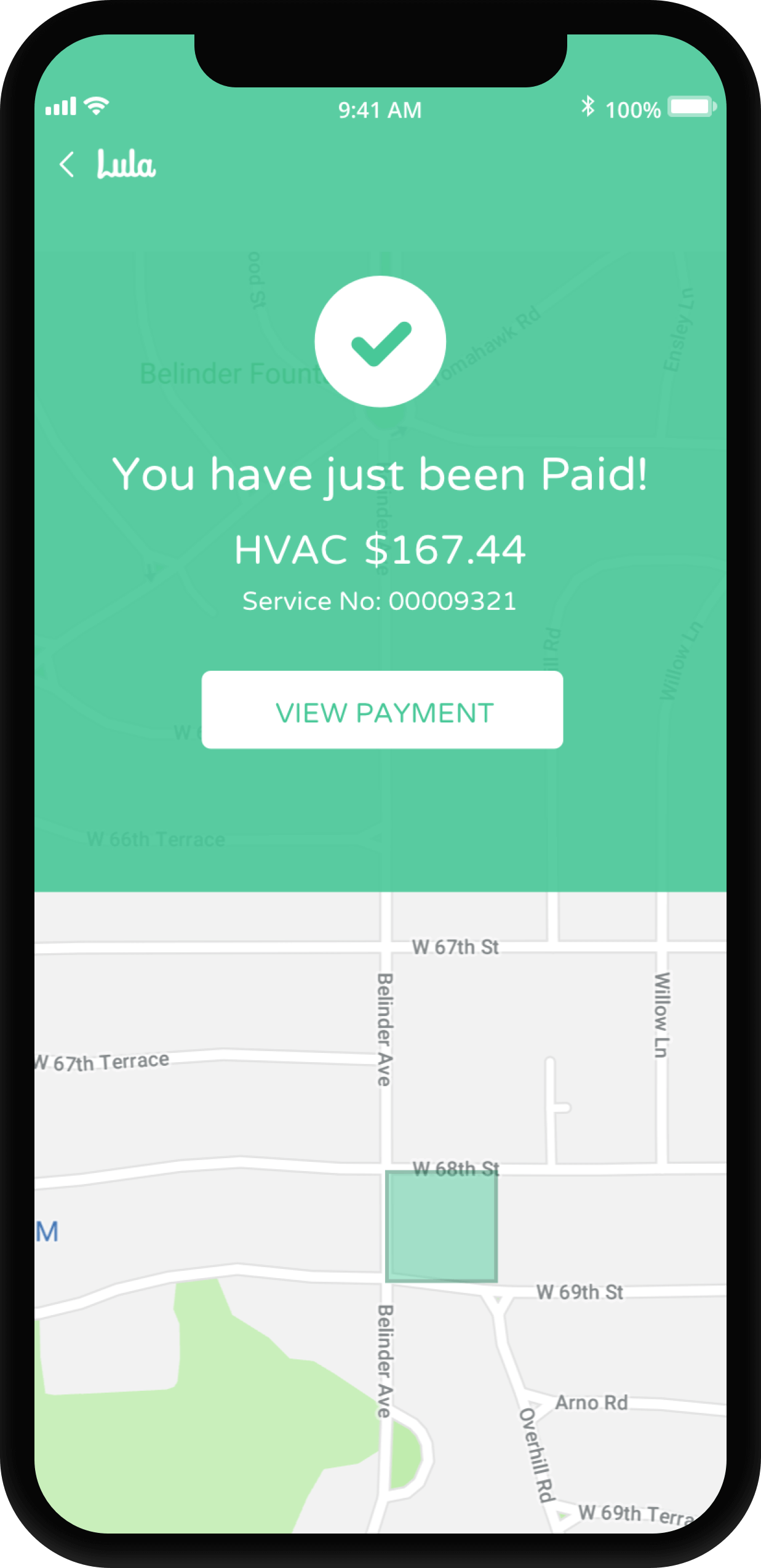 Receive Job Requests
Once you've gone through our vetting process and been approved to be on the Lula platform, you'll start receiving job requests. Lula's pricing algorithm will generate the price along with the necessary job details.
Claim The Jobs You Want
Claim the job, and it's yours. Approved providers can claim a job within seconds.
Get Paid Immediately
Before a consumer can request a job, they have to have payment information on file. As soon as a job is complete, we immediately capture payment from the customer and pay out the provider. You never have to deal with invoicing, payment plans, or overdue payments.