Property managers are always looking for help with their property management marketing strategy.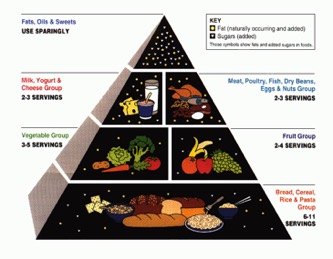 Everybody probably recognizes the USDA food guide from their elementary school lunchroom days. The food pyramid was hanging on the wall of every lunchroom in America. This famous pyramid showed the different food groups and how much of each goes into a well-balanced diet. Just like a healthy diet, marketing requires balance.
Property managers are no stranger to marketing struggles. If you're a property manager and you're reading this, you probably have consistently vacant units. You're looking for help with your marketing strategy and you just need someone to tell you how to do it without having to pay thousands per month in agency fees.
As I mentioned above, your strategy needs balance. That's why I created this illustration to show which marketing platforms you need to be utilizing the most.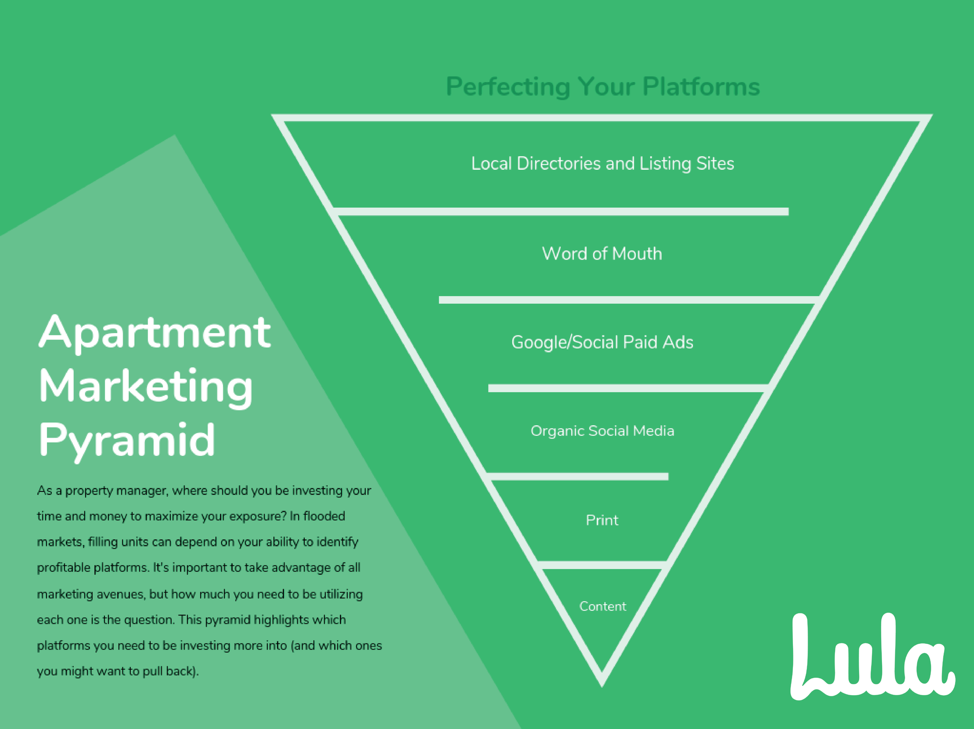 There are many different marketing platforms for a property manager, but I want to touch on six main platforms.
When it comes to marketing, you want to allocate your time and money into the right places. Much like diversifying your investment portfolio, you want to diversify your property management marketing portfolio.
The six main marketing platforms property managers should be utilizing are: local directories and listing sites, word of mouth, Google/social media paid ads, organic social media, print advertising, and content marketing.
Local Directories and Listing Sites
In today's day and age, the first thing a person does when they are looking for a new apartment is a Google search. You'll notice that any generic search for "apartment near me" or "apartments in (city name)" will bring up several big listing sites like Apartments, Zillow, and Rent.com (to name a few). Sites like Zillow are part of a syndicated group of listing sites.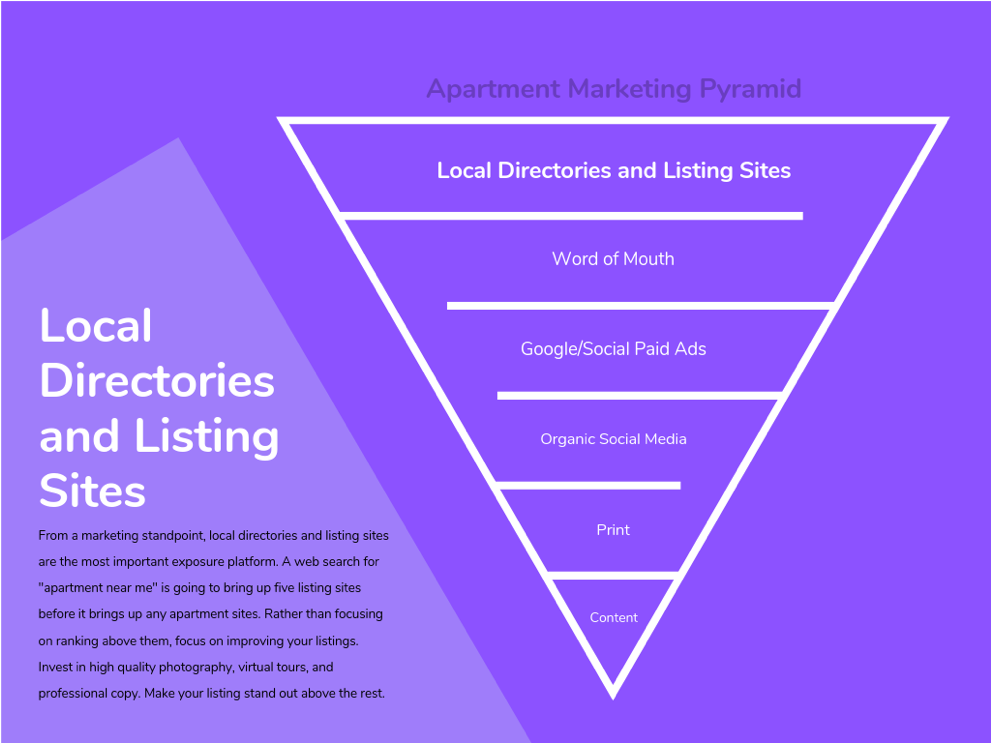 I hate to be the bearer of bad news, but you'll never outrank those websites on Google's rankings.
There are a ton of factors that Google considers in its ranking algorithm. The marketing budget for a large listing site is going to be significantly higher than yours. Since the largest portion of their business depends on search queries, they are pouring a lot of money and resources into being at the top.
Rather than spending time, money, and effort on ranking at the bottom of the first page, spend it optimizing your listings on those sites.
Do everything you can to make your listings stand out above the rest. That might include high-quality photography, virtual tours, or even video.
With apartment search engine optimization, the old saying reigns true: If you can't beat em', join em'.
Word of Mouth
One of the most important (and most cost-effective) marketing platforms for properties is word of mouth. When a property is doing all of the right things and hitting all of the right notes with its' residents, word of mouth spreads like wildfire.
As a property manager, the best way to generate word of mouth is by doing your job. Improve the lives of your residents and make it impossible for them to want to leave.
Word of mouth can sometimes be a long-term process, so here are a couple of ways you can jump-start the effort.
1) Start a resident referral program.
Offer your current residents incentives for certain types of referrals. Here is a sample of how a resident referral program could work: If a resident successfully refers a person and they set up a showing or meeting, then they receive $25 off of rent that month. If a resident's referral signs a lease, $100 off of rent that month.
Managers can even get more creative and offer event tickets or other prizes for successful referrals.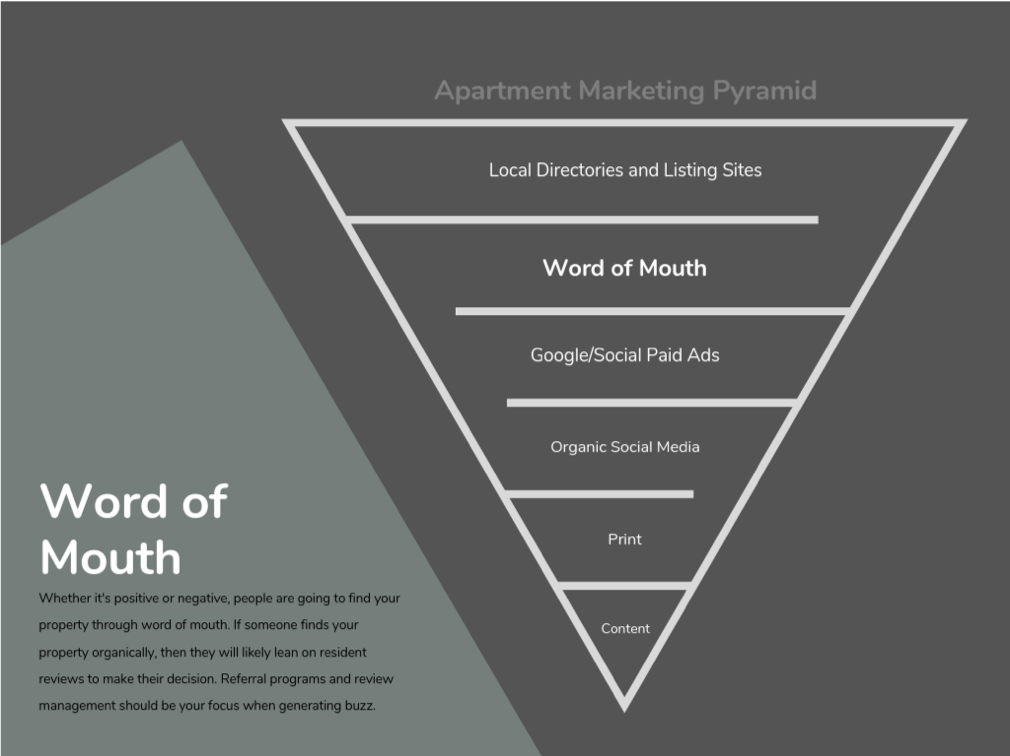 2) Encouraging reviews
Any resident who is considering an apartment is going to lean on reviews to make their decision. Without incentives, you should be encouraging residents to leave reviews for your property online. Whether it's good or bad, you want to encourage your residents to leave reviews.
Why would you encourage residents to leave bad reviews? Well, if you're doing everything correctly, you shouldn't have too many problems with bad reviews.
3) Establish review management procedures
No matter what, you are going to get an occasional bad review. As long as you are doing your due diligence, most people will recognize the occasional bad review as a fluke. There are good and bad ways to handle reviews.
When you have a good review, a simple response telling that person thank you will look good. Here's an example of the right way of handling a review.
If you have a bad review, it's a different story. Check out how this property chose to respond.
You should never point out a resident's faults on a public posting. Rather than putting them down, just respond with something like this, "Dear resident, we are extremely sorry to see that your time here hasn't met expectations. Please contact xxx-xxx-xxxx to discuss this matter. Your feedback matters to us!"
When it comes to bad reviews, always take it offline. You don't want to look like you're arguing with the resident. Handle it respectfully.
If you think a person is acting maliciously and leaving bad reviews, there are ways to try and have them removed so they don't negatively affect your online image.
Google and Social Paid Ads
Online paid ads are going to be the most difficult platform to master. Without going into too much detail, it will take a little research to get started. There are online courses you can take to get certified in paid ads, which would be a good start.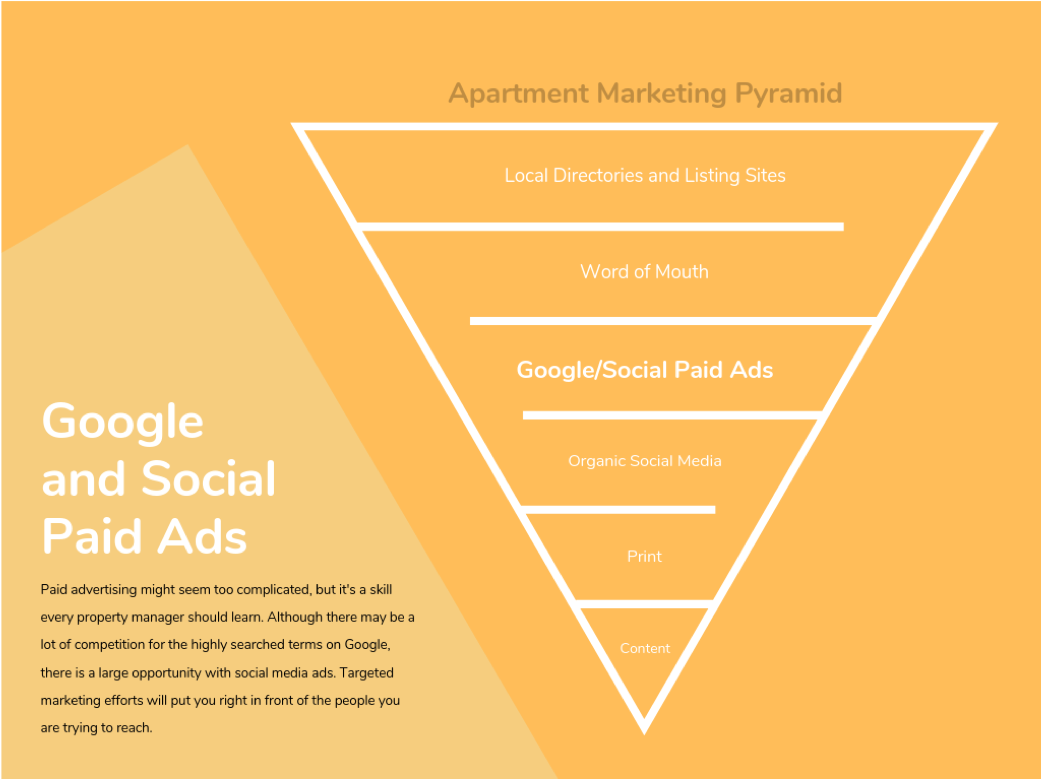 If you have a basic understanding and are ready to get going, you should begin by doing some basic Google searches. Put yourself in the mind of your resident. What would you be searching if you were them?
From there, look at who is advertising for those search terms. Are they the same big listing companies that show up organically? Or are they other apartment complexes? The answer to that question will tell you if you should be paying for those ads or not.
Most property managers are trying to keep their spending low. While Google ads can bring a hefty return on investment for some searches, Facebook might be even better.
Facebook ads manager is easier to navigate and easier to target. The power of Facebook for property managers is understated. Stay ahead of the curve and learn how to advertise using Facebook, before everyone is doing it.
Organic Social Media
Q: Why is organic social media important?
A: It's free.
Look, your social media presence shouldn't be seen as a way to go viral and get tons of new residents. Your social media presence should be seen as an effective way of engaging current residents and displaying your "community culture."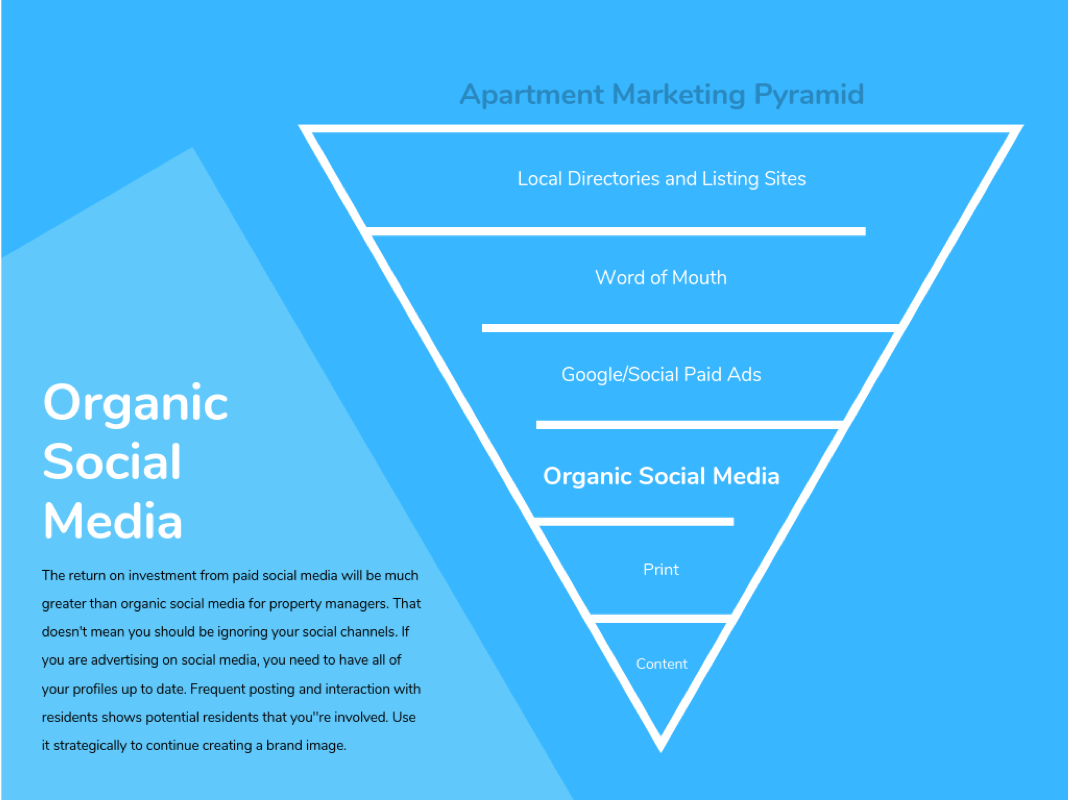 Everyone is on social media these days. Facebook, Instagram, and Twitter are the big names. Since everyone is on social media, you should be too. If you aren't, you're doing yourself a disservice.
Like reviews, many potential residents are going to check out your social media profiles. Poorly designed and inactive business profiles look bad, trust me. Social media is linked to professionalism.
Not only can social media promote professionalism, but it can promote a culture. People are looking for a lot more than just a place to live, and social media is a great way to display those perks.
Lastly, social media is a great way to stay engaged with the people who already live on your property. Events, updates, and other announcements can all be kept up to date on social media. Posting pictures and responding provides an opportunity to make the resident-landlord relationship a little more personal. Good connections go a long way when it comes time to renew a lease.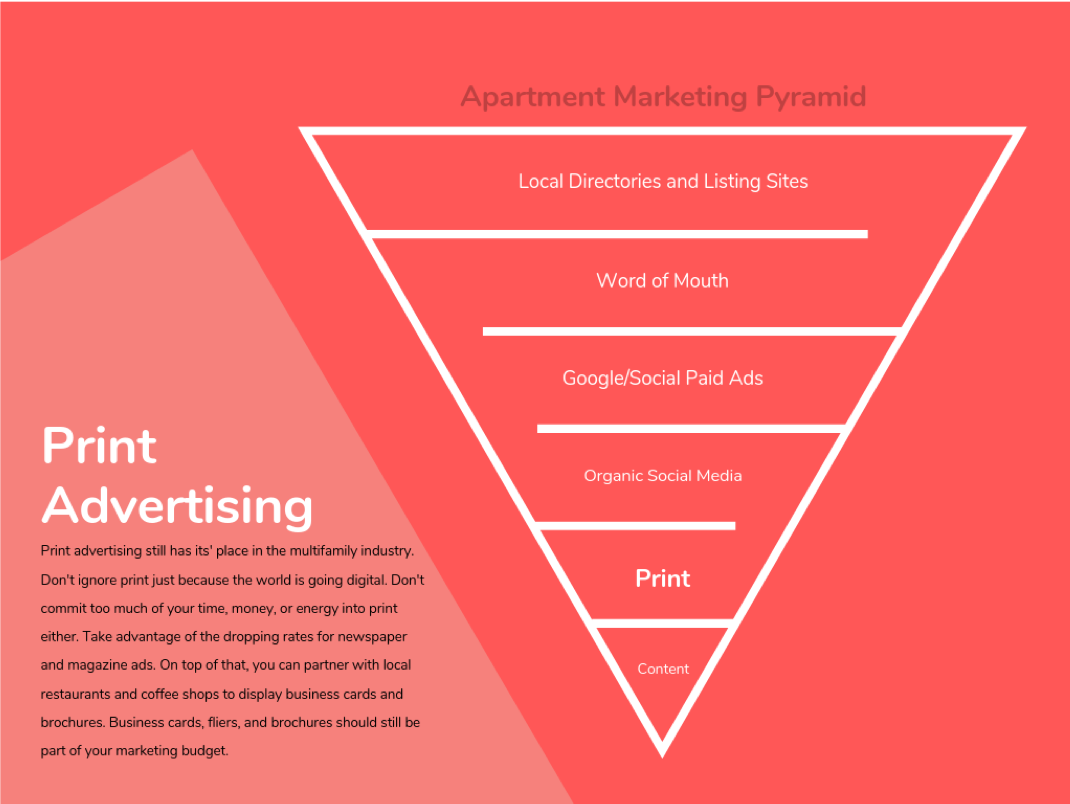 Print
You should still have a piece of your marketing budget reserved for print advertising.
With the increase in digital publications, traditional print media is on the decline. You can take advantage of the declining prices for ad placements in local newspapers and magazines.
Even if you don't plan on purchasing ad placements in print media, you shouldn't completely ignore print. Business cards, brochures, and fliers are all effective ways of gaining exposure.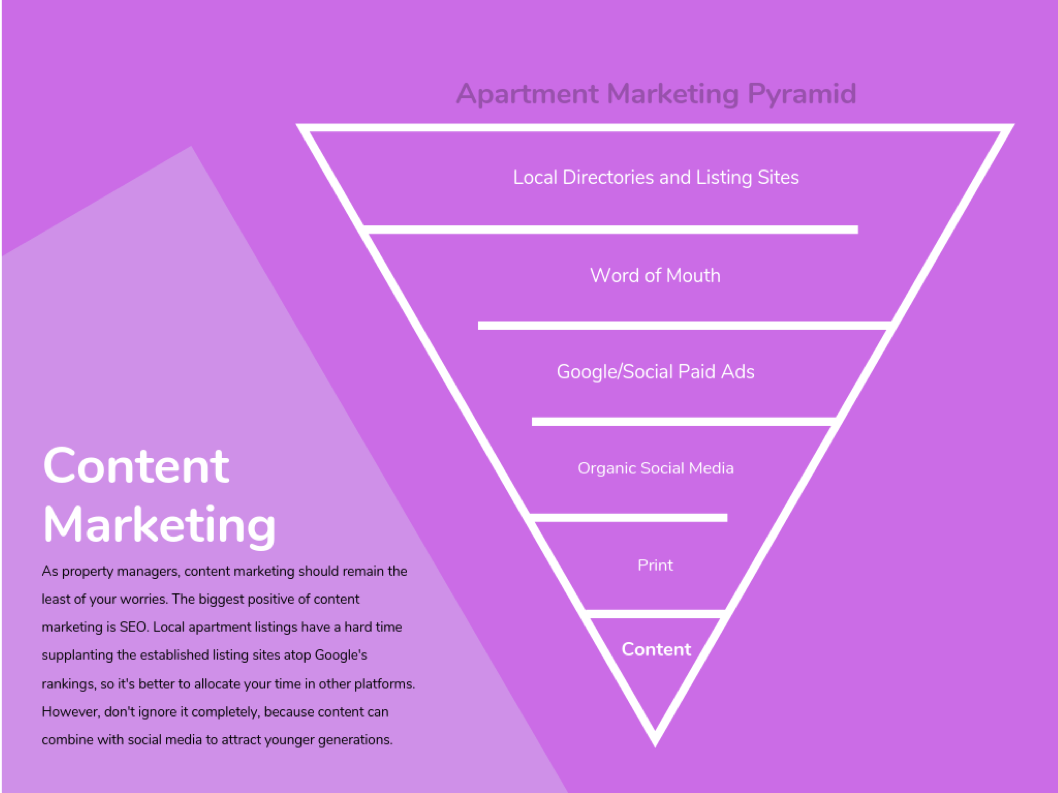 Content
Everywhere you look, businesses are taking advantage of content marketing. It's good for brand awareness, driving traffic, SEO, social media, and more.
Creating high-quality content is time-consuming. If you aren't creating high-quality content, you shouldn't be creating content at all.
Since SEO isn't a crucial component of a property's marketing strategy, content shouldn't be created for rankings.
Content can combine with social media to draw in younger generations who are jumping into the rental market.
ATTN: PROPERTY MANAGERS – If you consider this pyramid when building a property management marketing strategy and budget, you will be successful. Don't spend too much time in the wrong categories. All of the levels of this pyramid should combine into a well-balanced diet (uhh, I mean marketing strategy).
Anything found written in this article was written solely for informational purposes. We advise that you receive professional advice if you plan to move forward with any of the information found. You agree that neither Lula or the author are liable for any damages that arise from the use of the information found within this article